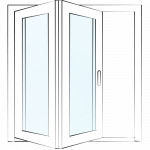 Folding doors features multiple panels that can be moved to one side, swung outwards, or split and folded to either side. These traditional doors are a great way to integrate indoor and outdoor spaces in a functional and beautiful way.
Custom Options for Folding Doors
At Ridley Windows & Doors, our exceptionally-crafted folding doors offer you the ability to customize your door to meet your exact specifications. Select from a wide range of features below.
Our experienced and knowledgeable team can help you determine the best fit for your home or business.