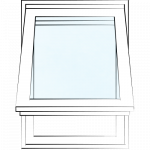 Picture windows are stationary windows that do not open and where the glass is set directly into the frame. These windows are designed to maximize natural light and offer a pristine view of the outdoors, while allowing for larger window sizes and improved energy efficiency.
Custom Options for Picture Windows
At Ridley Windows & Doors, we offer you the ability to customize your picture windows to meet your exact specifications.
Our experienced and knowledgeable team can help you determine the best fit for your home or business.