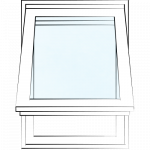 Awning windows are hinged at the top and swing open at the bottom to provide ventilation, even in inclement weather. Flexible in design, these windows can be installed below other windows or on their own, depending on your desired look.
Custom Options for Awning Windows
At Ridley Windows & Doors, we are able to customize awning windows to meet your exact specifications.
Our experienced and knowledgeable team can help you determine the best fit for your home or business.