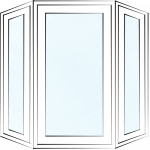 Bay windows will typically include a picture window, flanked by casement or hung windows at angles, used to create a scenic panorama view. These windows are great for creating a focal space in your living area while allowing for good airflow.
Custom Options for Bay Windows
At Ridley Windows & Doors, we offer you the ability to customize your bay windows to meet your exact specifications.
Our experienced and knowledgeable team can help you determine the best fit for your home or business.