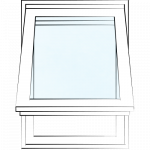 Single-hung windows feature a fixed top sash and a moveable bottom sash that can be raised to allow for better ventilation. This classic style of window is a versatile option that can be used in a variety of situations.
Custom Options for Single-Hung Windows
At Ridley Windows & Doors, we offer you the ability to customize your single-hung windows to meet your exact specifications.
Our experienced and knowledgeable team can help you determine the best fit for your home or business.