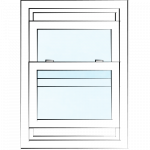 Double-hung windows feature two moveable sashes that can be raised or lowered to provide superior ventilation from the top, bottom, or both. These windows are versatile and well-suited to a number of applications.
Custom Options for Double-Hung Windows
At Ridley Windows & Doors, we offer you the ability to customize your folding windows to meet your exact specifications.
Our experienced and knowledgeable team can help you determine the best fit for your home or business.