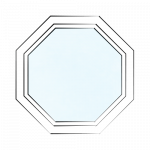 From geometric to radial to fully-custom shapes, specialty windows offer many possibilities for personalizing the look and design of your home or business. These windows work well as focal points in your spaces to create an engaging point of interest.
Custom Options for Specialty Windows
At Ridley Windows & Doors, we offer you the ability to customize your speciality windows to meet your exact specifications.
Our experienced and knowledgeable team can help you determine the best fit for your home or business.