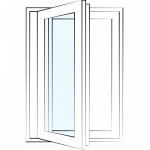 Casement windows feature a single sash that is hinged on one side and opens on the other, either inward or outward. These windows offer excellent ventilation, while also sealing tightly to the frame when closed. You often find them grouped together over locations such as kitchen sinks or countertops.
Custom Options for Casement Windows
At Ridley Windows & Doors, we offer you the ability to customize your casement windows to meet your exact specifications.
Our experienced and knowledgeable team can help you determine the best fit for your home or business.